Back to all posts
Catering a wedding – the most important things to consider
2 March 2021
When planning a wedding, catering is one of the most important aspects you'll have to consider – after all, hungry guests aren't happy guests!
Planning your wedding catering should not be a source of stress - with expert help and guidance from trusted event professionals, not only can you satisfy the palates of your discerning guests, but you will leave them feeling truly spoiled.
Read on for top tips from our team of wedding planners for catering a wedding…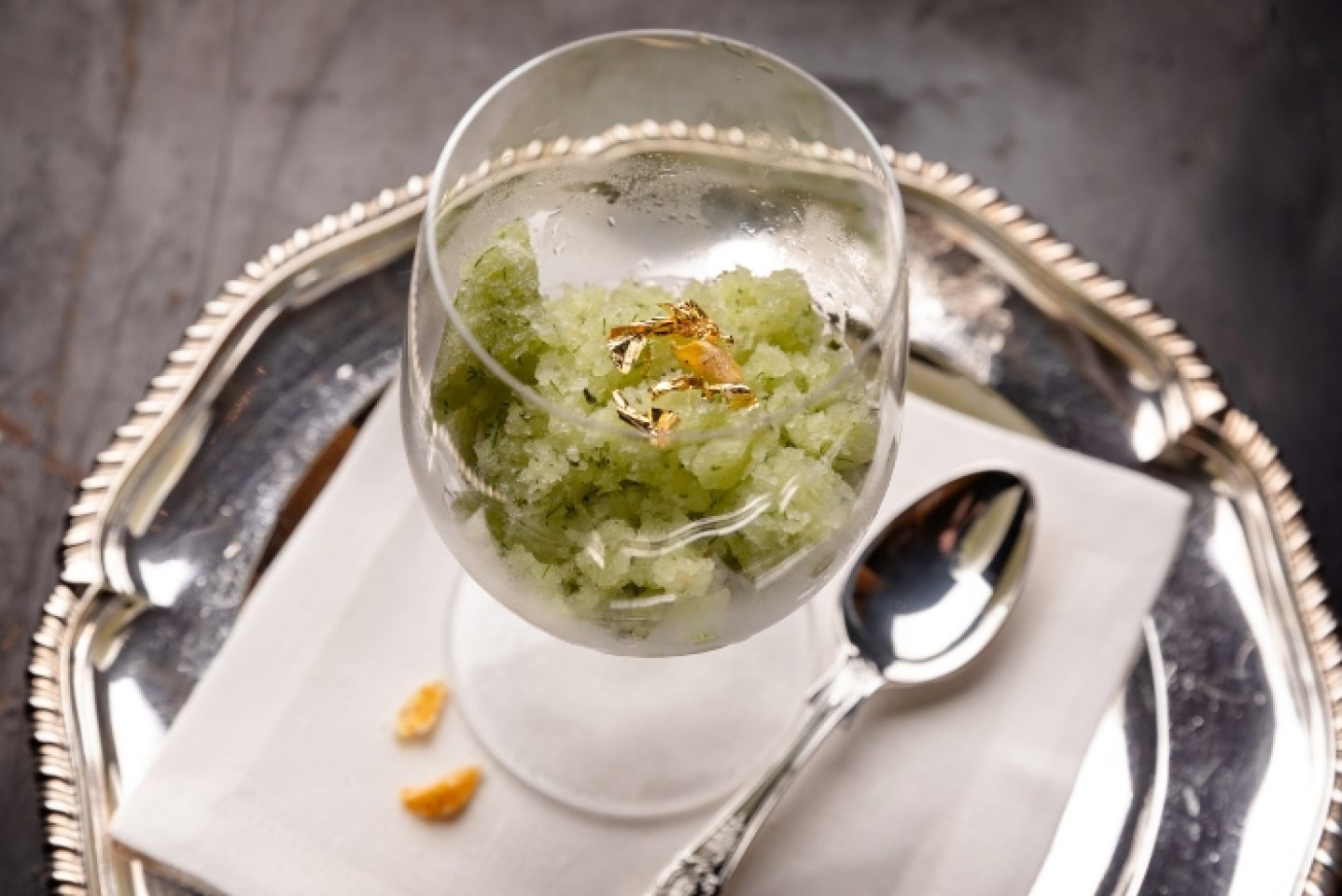 Clarify your must-haves
It's essential that you lock down the basics as a first step for catering planning and tackle this as early as possible for a smoother journey!
Before you can think about what food and drink you and your guests will be enjoying on your wedding day you need to know when and where your wedding will be held, exactly how many guests you will be providing for, whether crockery, cutlery and glassware will be supplied and how much support from staff is required on the day.
If you aren't clear on your requirements from the offset, then you could face delays or unexpected costs further down the line. However, it does pay to be flexible too – take on advice from your venue's events team or caterer about what will work best on the day.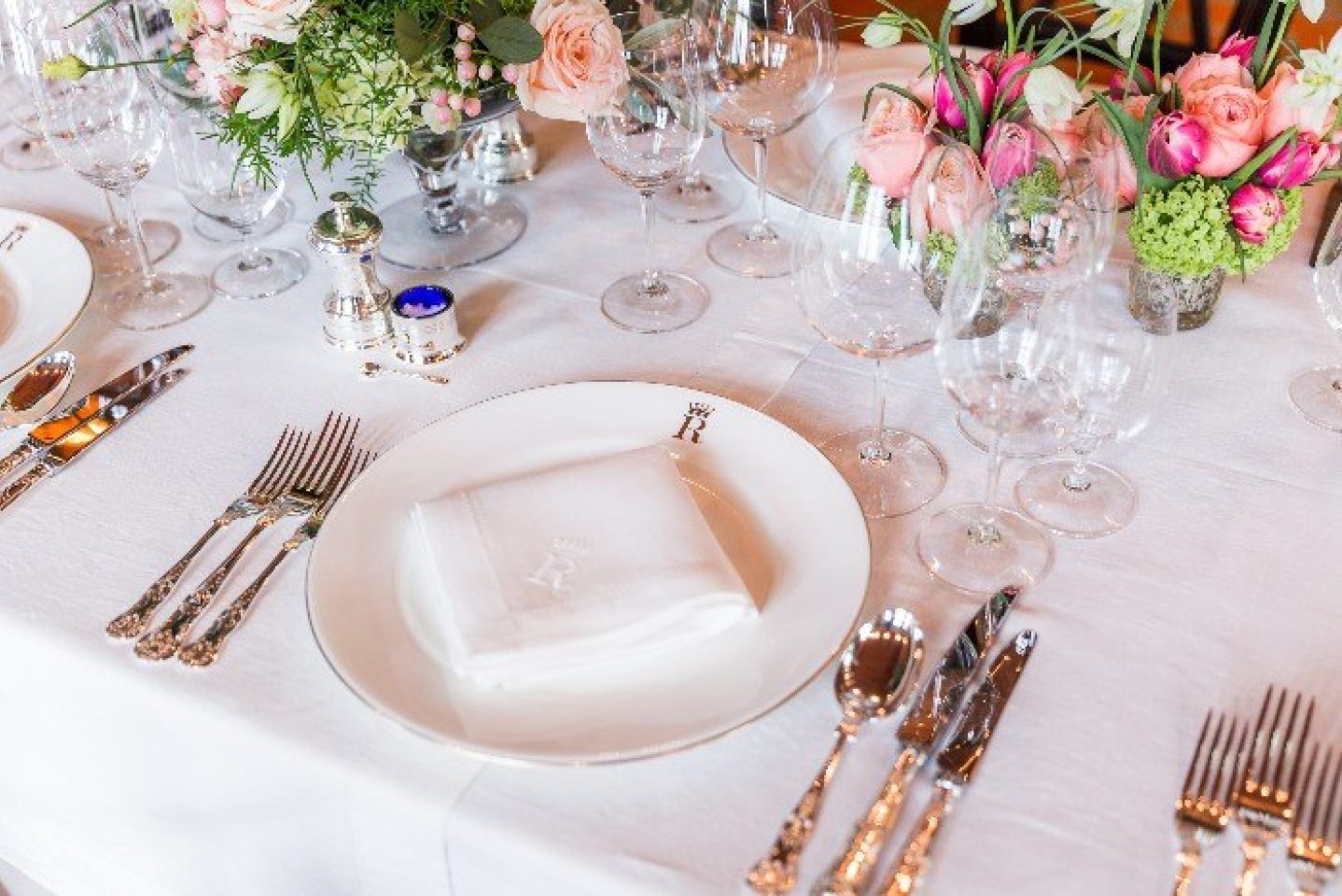 Choosing a caterer
When it comes to choosing a caterer, it's a good idea to consider what kind of cuisine you'd like served on the day. Your wedding menu could reflect your personal taste, current trends or even tie into your venue's setting – whatever it is, keep it in mind when choosing a catering supplier!
Most venues will have a roster of trusted catering suppliers, and Rosebery Venues are no different. From traditional to contemporary and intimate to extravagant – our catering teams create memorable and fun events with the finest food, drink, production and creative flair.
Our catering partners have developed exquisite, stylish and seasonal menus. Scotland's rich larder can be sourced on the doorsteps of our venues. World-class ingredients can be found on our own Rosebery Estates, such as Great British Vermouth which is produced on the Estate, as well as from local artisan producers. These trusted partners include the wonderful Wilde Thyme and Stocks Events.
Do your research and determine which caterer suits the style of food you would like to serve – for example, are you keeping it classic with a traditional menu or going for a more edgy contemporary offering? While caterers are versatile, some may specialise in certain cuisines.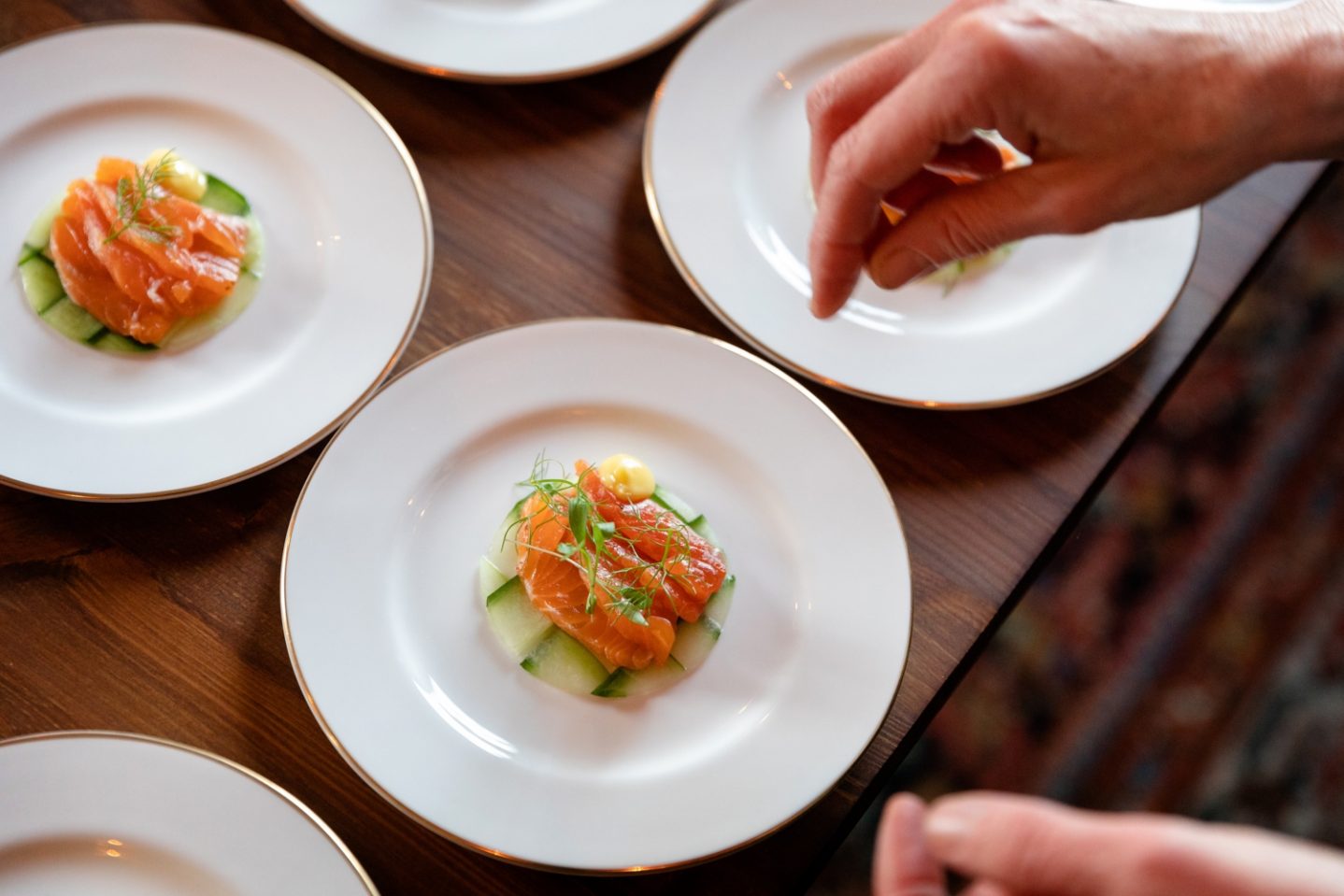 Considering your guests
While your menu should ultimately be made with your favourite flavours and foods in mind, it's important to consider the needs of your guests, too, to ensure your menu is the talk of the night! Attending a wedding can be a long day, especially if the catering is sub-par and the drinks offering is lacking – you want your menu to be on the lips of your guests long after they have headed home.
Give thought to whether anybody has any special dietary requirements such as allergies, intolerances or vegetarians/vegans. Don't let anyone feel as though they are missing out on a great meal because of a dietary issue!
Another thing to consider is if there will be any children attending – kids are notoriously picky, so it might be best to consider some plainer, child-friendly options on the menu.
Your catering team will undoubtedly have a checklist of 'need to knows' before planning the menu, so take heed from their expertise and let their experience guide you.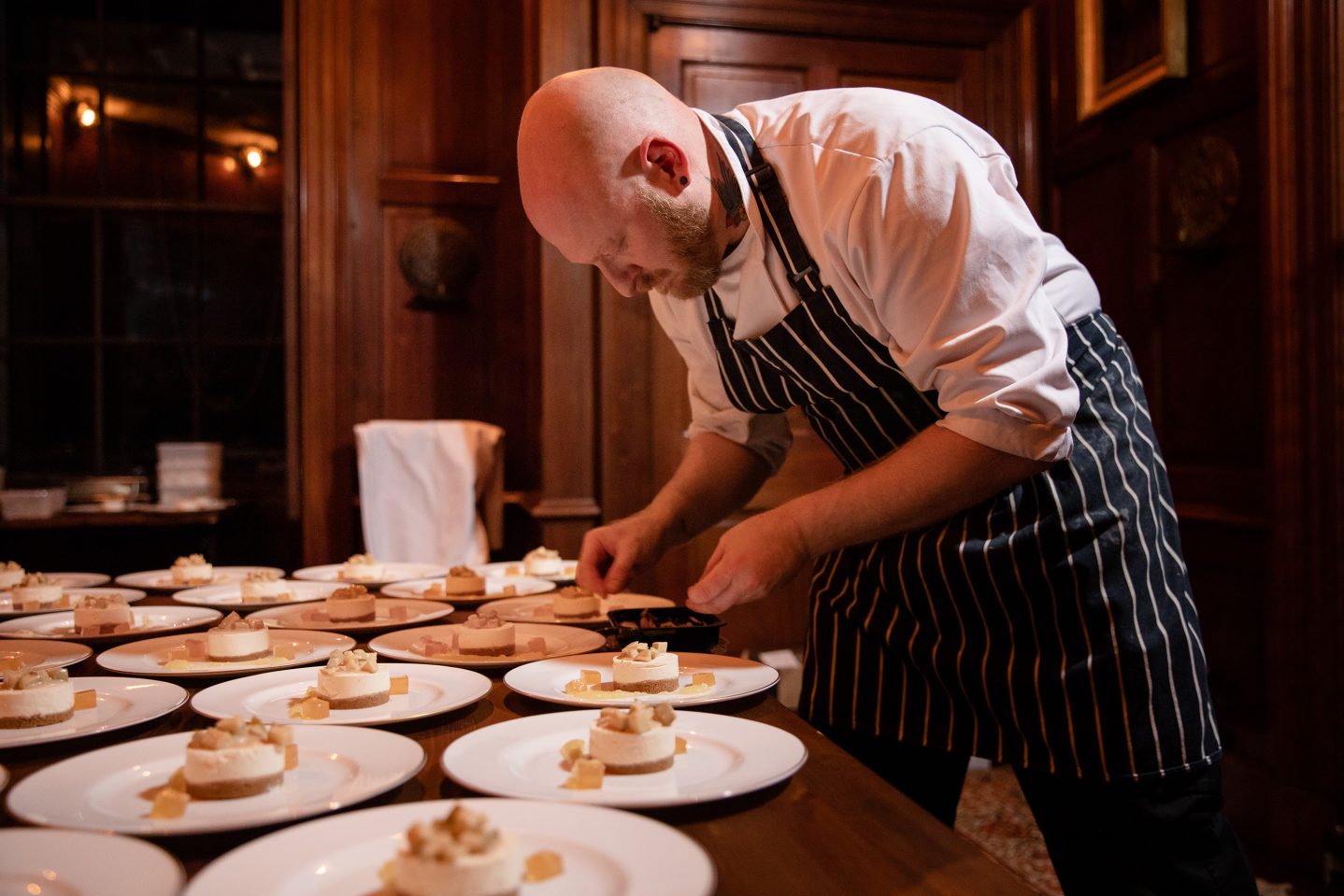 Get creative
This is your opportunity to get creative and let your imagination run wild. Have fun creating your menu and you will definitely have fun eating it later on! The Rosebery Venues team relishes the chance to unlock the creative side of the couples we work with, and it's so rewarding to see the fruits of their creativity come to life on the day.
While a traditional sit down 3 course meal is great, why not consider some more 'out there' options? You could try matching the food to the setting of your venue – for example, a medieval-style Scottish feast in Barnbougle Castle's Banqueting Hall where you and your guests can dine like Kings and Queens. Likewise, Rosebery Steading's exquisite outdoor space is perfectly suited to hosting a divine hog roast or summer barbeque, while Rosebery House is perfect for intimate small wedding dinner parties in its cosy library and grand dining rooms.
Or, you could opt for a more traditional main meal and pepper in an unusual snack for your guests, like a popcorn trolley or ice cream station to refuel later on after a long spell on the dancefloor!