Malcolm Burberry
General Manager
Malcolm joined Rosebery Venues in summer 2022 to lead the Rosebery Venues team as General Manager. At the pinnacle of the hospitality industry for more than ten years, his focus has lain in event catering operations and leadership.
Leading operations at two of Scotland's premier catering companies, most recently at Heritage Portfolio, Malcolm's career highlights include a private meeting with Her Majesty Queen Elizabeth II, having overseen catering elements of the 2019 Royal Garden Party at Holyrood Palace.
As his career comes full circle, Malcolm will again work with Wild Thyme, with whom he started his career, as Rosebery Venue's exclusive catering partner. Unsurprisingly, Malcolm is a passionate foodie and advocate for Scottish produce, having grown up on a Perthshire fruit farm. When not working, find him on the golf course in summer and skiing in winter.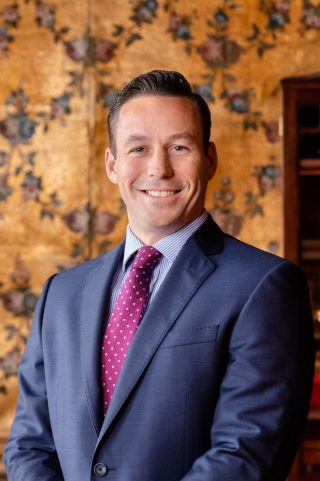 Louisa Kerr
Head of Sales & Marketing, Rosebery Venues
Louisa is a recognised and respected figure in the hospitality industry, she joined Rosebery Venues as our charismatic Head of Sales & Marketing in 2019. Initially overseeing Barnbougle Castle, Louisa is responsible for developing and managing the Estates' three five-star venues with a focus on corporate and incentive markets.
Louisa's career has taken her through the sales programme at Scottish & Newcastle to Hopetoun House where she was employed in management positions for many years. Louisa is passionate about tourism and historic properties and spends much of her free time sampling what Scottish hospitality has to offer with her family.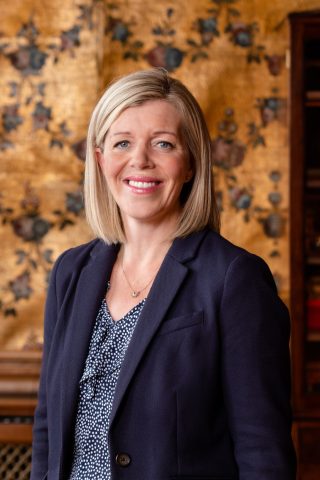 John Wilson
Operations Manager, Barnbougle Castle
John Wilson recently joined our team as Operations Manager, bringing over 30 years of experience from Lothian & Borders and Police Scotland. John's expertise lies in event security and safety, having worked as a VIP protection officer and as an Event & Emergency Response Planning Officer.
John's impressive career also includes being a VIP Venue Liaison Officer at the Glasgow Commonwealth Games. His ability to build strong relationships and work collaboratively with event organizers, stakeholders, and VIPs has earned him a reputation as a trusted partner in the events industry.
Outside of work, John is a devoted family man, having been married to his wife Nicki for 37 years and being the proud grandfather of two grandchildren. He enjoys watching sports, going for long walks, cooking, and soaking up the sun on holiday.
We're thrilled to have John on our team, bringing his expertise and passion to every event we host. With John's leadership, we're confident that we can continue to provide our clients with unparalleled service and experiences.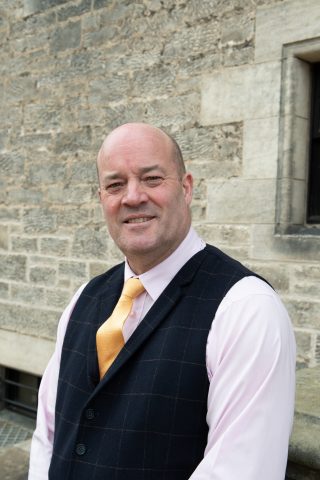 Siobhan Forrest
Office Manager, Rosebery Venues
Siobhan is one lady that lives and breathes her work as not only does she run the office, she also lives on the Estate.
With a background in admin support, there's nothing Siobhan doesn't know about systems and procedures which is reassuring, as she has one of the busiest roles, working across the many different departments from accounts to maintenance.
Outside of work, Siobhan is a keen line-dancer and loves spending her free time with friends and family.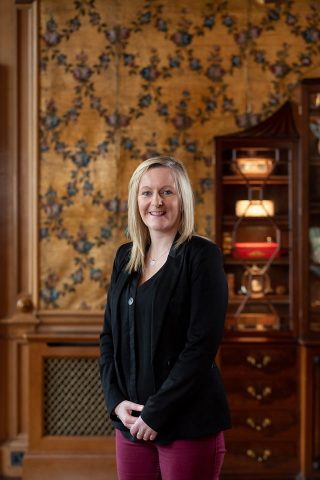 Max Baker
Operations Manager, Rosebery House and Steading
With a background in historic building restoration and estate management, Max is the perfect fit for Rosebery Venues and its portfolio of heritage properties, including Rosebery House and the 18th-century Rosebery Steading. In his previous role, Max was an Estate Manager in the South of England on a country estate where he looked after a wedding venue and heritage gardens.
Max moved up to Scotland in pursuit of rugged hills and breathtaking scenery, including the exquisite properties across the expansive Rosebery Estate! Max is a dedicated team player passionate about making each guest's experience amazing.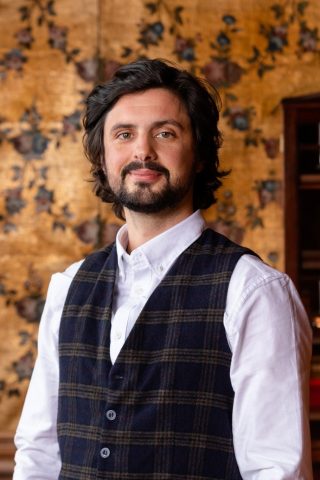 Becky Hamilton
Wedding & Events Manager
The newest member of the Rosebery Venues events team, Becky comes onboard to help bring your vision of the perfect wedding day to life at our prestigious Scottish wedding venues.
After living and studying tourism in Scotland's capital city, Becky embarked on a career in hotels and destination management. Her passion for planning and events management has led her to join some of Edinburgh's most iconic venues, namely Murrayfield Stadium and Dynamic Earth, before joining the Rosebery family.
Becky's perfectionism and passion for creating showstopping events will ensure that couples planning weddings in our exclusive venues are in safe and capable hands. Becky looks forward to showcasing our portfolio with you and helping you plan your unforgettable event.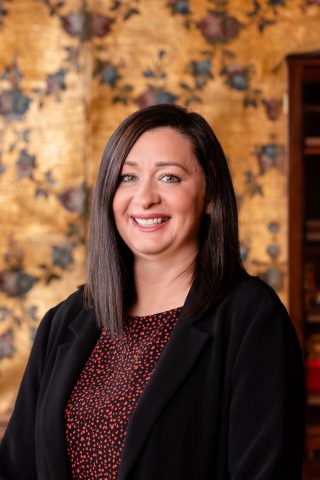 Jo Kemp
Wedding & Events Manager
A highly experienced events manager, Jo has worked in Scottish tourism in marketing and event management roles for public events - including supercar driving experiences, helicopter tours and tank driving!
After planning and organising her own wedding, Jo discovered her passion and made the move into wedding coordination working with luxury Scottish venue, Carberry Tower, before joining the Rosebery Team.
Jo has a natural talent for planning and loves helping couples bring their dream wedding day to life. When not working, Jo enjoys exploring Scotland and beyond(!) with her young family.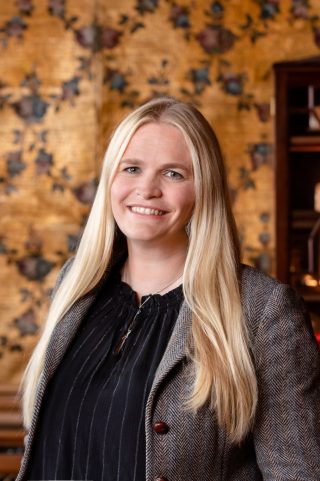 Louise Hunt
Wedding & Events Manager
Louise started her career in events with Heritage Portfolio in 2014 whilst studying event management. She has delivered outstanding events at prestigious venues that include Hopetoun House, Mansfield Traquair, Signet Library and Surgeons Hall.
Joining the Merchants' Hall events team in 2016, she moved on to Cringletie House as the Wedding and Event Coordinator. Organised and dedicated, Louise was a finalist for Wedding Coordinator of the Year (2019 and 2020) at The Scottish Wedding Awards. Louise loves getting to know our wedding clients, hearing their story, and helping pull together the happiest day of their lives. With a passion for rural life, she is happiest when hill climbing accompanied by a flask of tea!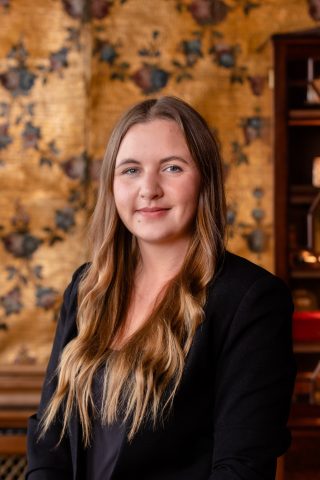 Kirsty Bernard
Sales & Events Manager, Barnbougle Castle
From overseeing a busy festive period in a popular city centre restaurant to working as a wedding co-ordinator, Kirsty has always had a knack for organisation. After honing in on this skillset, Kirsty moved to luxury Scottish venue, Carberry Tower, as Sales & Events Manager to oversee their exclusive events portfolio.
Now, after a decade in the wedding industry, Kirsty brings her wealth of knowledge and experience to the Rosebery Venues team. Priding herself on attention to detail, Kirsty offers a calm head and a robust approach to planning, ensuring that everything behind the scenes is running smoothly and allowing couples to enjoy every second of their special day.
When she isn't planning magical weddings, you can find Kirsty trying out new restaurants with friends or cuddling up with her cat and a good book!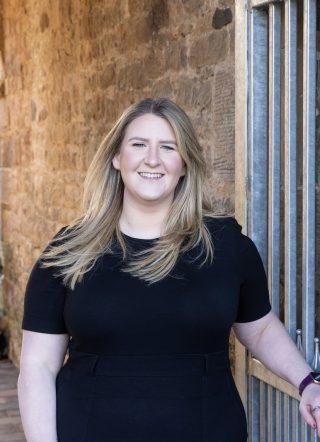 Jackie Mooney
Housekeeper, Barnbougle Castle
Jackie is an invaluable member of the team at Barnbougle Castle.
She joined Rosebery Estates as a housekeeper at Dalmeny house before moving to Barnbougle to support on the Castle's launch in 2019.
With many strings to her bow, Jackie started her career as a training officer with British Gas before retraining in finance and accounting to work with the Director of Finance within The Archdiocese of St Andrews and Edinburgh.
People are her passion but in her own words, Barnbougle Castle and all its historic charm comes a close second!
Kyla Bell
Housekeeper, Rosebery Steading & House
Kyla has worked on the Rosebery Estate for over ten years and is married to the Head Gamekeeper. A natural homemaker, Kyla is perfect for her role as Housekeeper taking care of everyone and everything.
She loves working in the splendid beauty of Rosebery House and is excited about the newest venue, Rosebery Steading.
In her spare time, Kyla is very much involved in her local community and is an active fundraiser.