Back to all posts
Magical winter wedding ideas
13 December 2022
Although traditionally less popular than a spring or summer wedding, winter weddings embrace the most magical time of year. Festive music, crisp weather and glamorous colour schemes – all winter wedding details that are sure to add warmth and make sparks fly on even the coldest days.
Bursting with romance, winter weddings are utterly under-appreciated. Not only are they dreamy and ethereal, but often venues will have more availability in the winter months of the year, making it more likely you can secure your perfect date!
If you are considering decking the halls of one of our venues for your winter nuptials, then keep on reading. We've compiled some wonderful winter wedding ideas to get your planning started.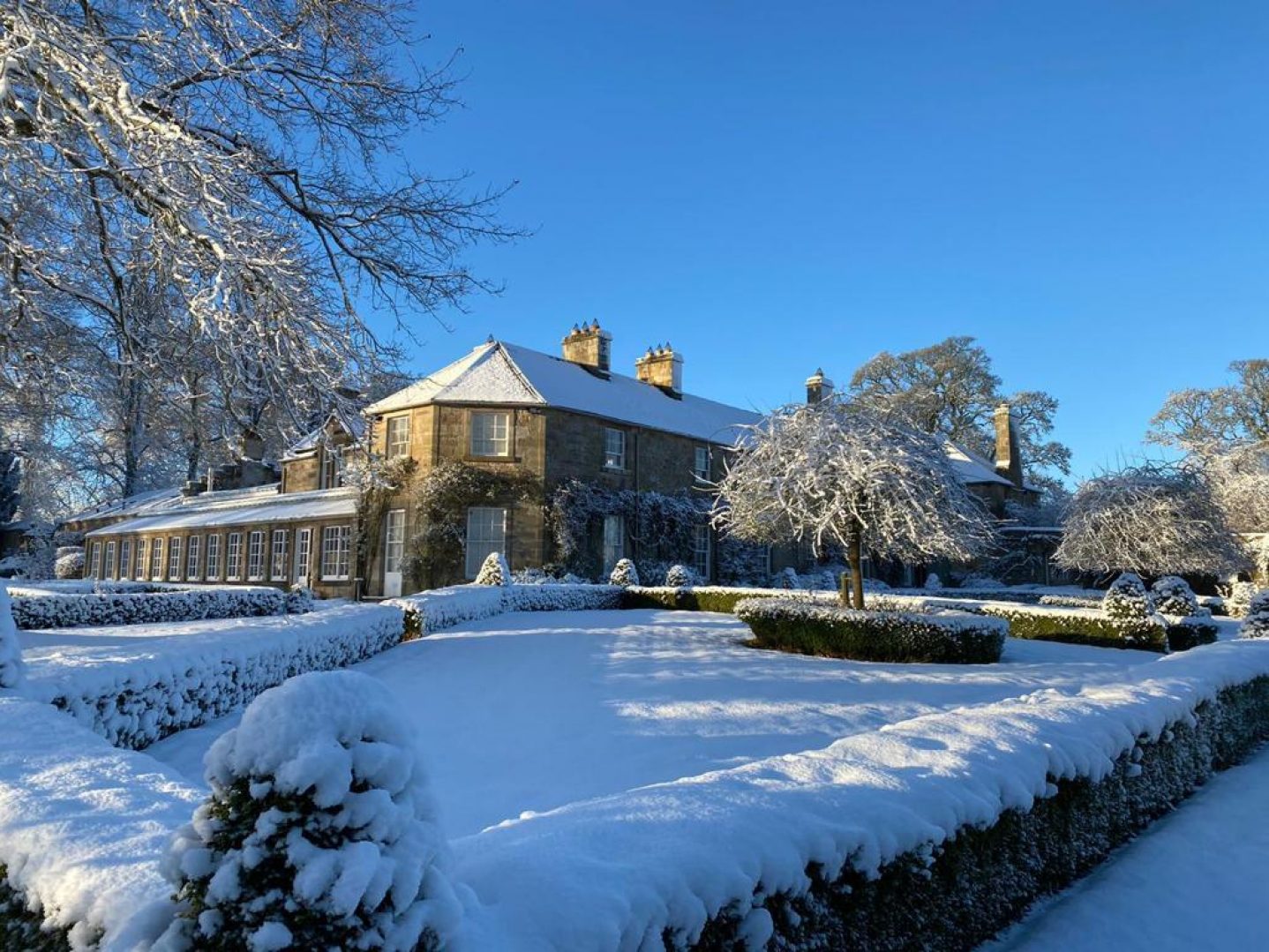 Create a Winter Wonderland
Don't let Mother Nature stop you from planning the ultimate wedding reception; instead, turn to nature for your décor and centrepieces. Pinecones look gorgeous scattered along table tops, and rustic logs or tree stumps work well as stands for candle and flower displays. Speak with our wonderful suppliers to design your winter wonderland fantasy.
Add dried cranberries, bundles of twigs or branches, and rosemary sprigs for an even more natural look. A fire pit, accompanied by a canopy of greenery or artificial snow, can also be a cosy addition. Barnbougle Castle's seafront terrace is a lovely setting for such a prop, allowing guests to keep warm while admiring the view.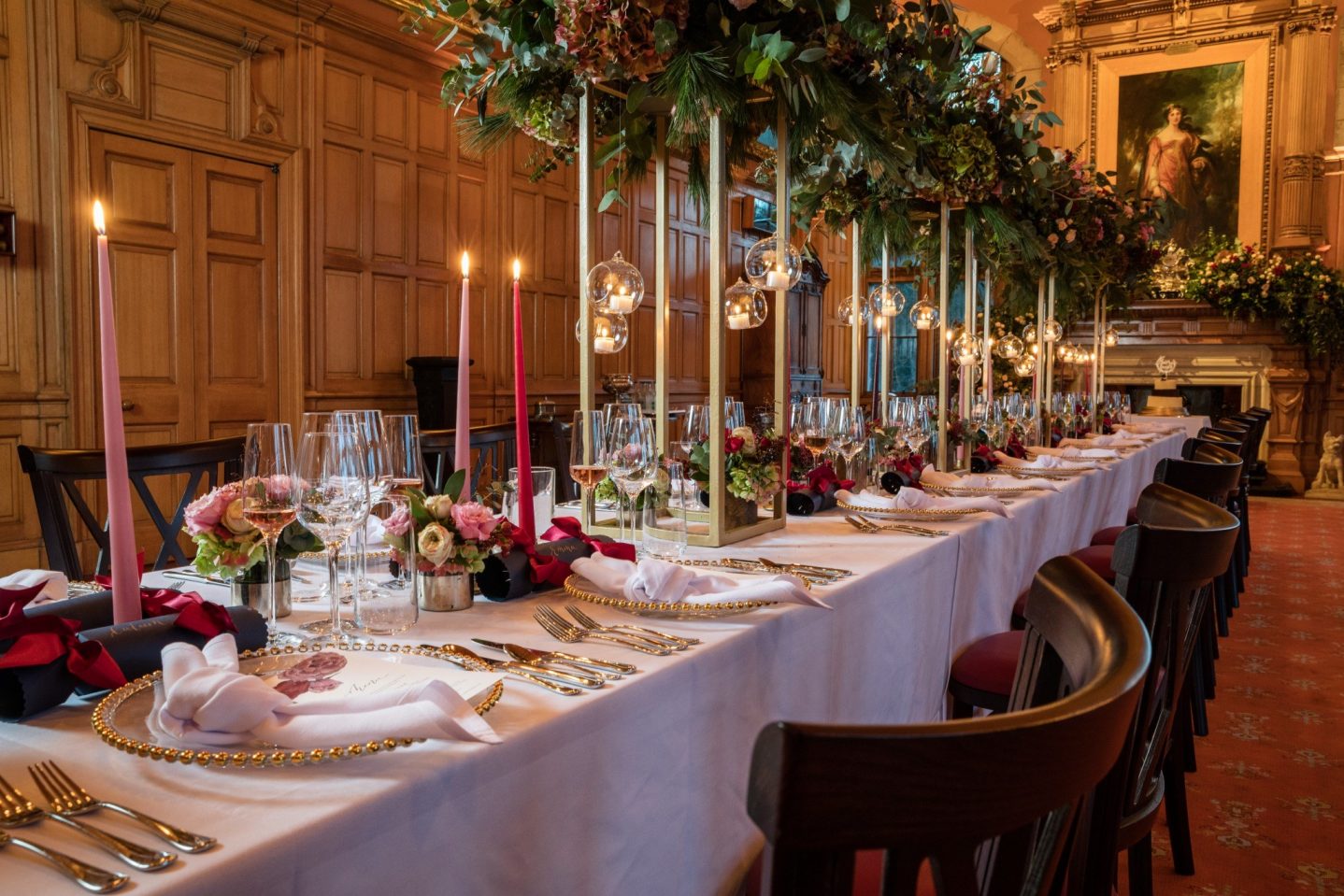 Seasonal flowers
Out-of-season flowers will need to be imported and won't look their best or be particularly cost-effective. Embrace seasonal blooms for your bouquet and arrangements, sticking to classic whites and dramatic reds or go bold with pink-hued blooms.

Luckily, our floristry suppliers are experts at working with the seasons - wintry foliage, like ivy, springs of yew, holly and hypericum berries look divine in centrepieces and bouquets.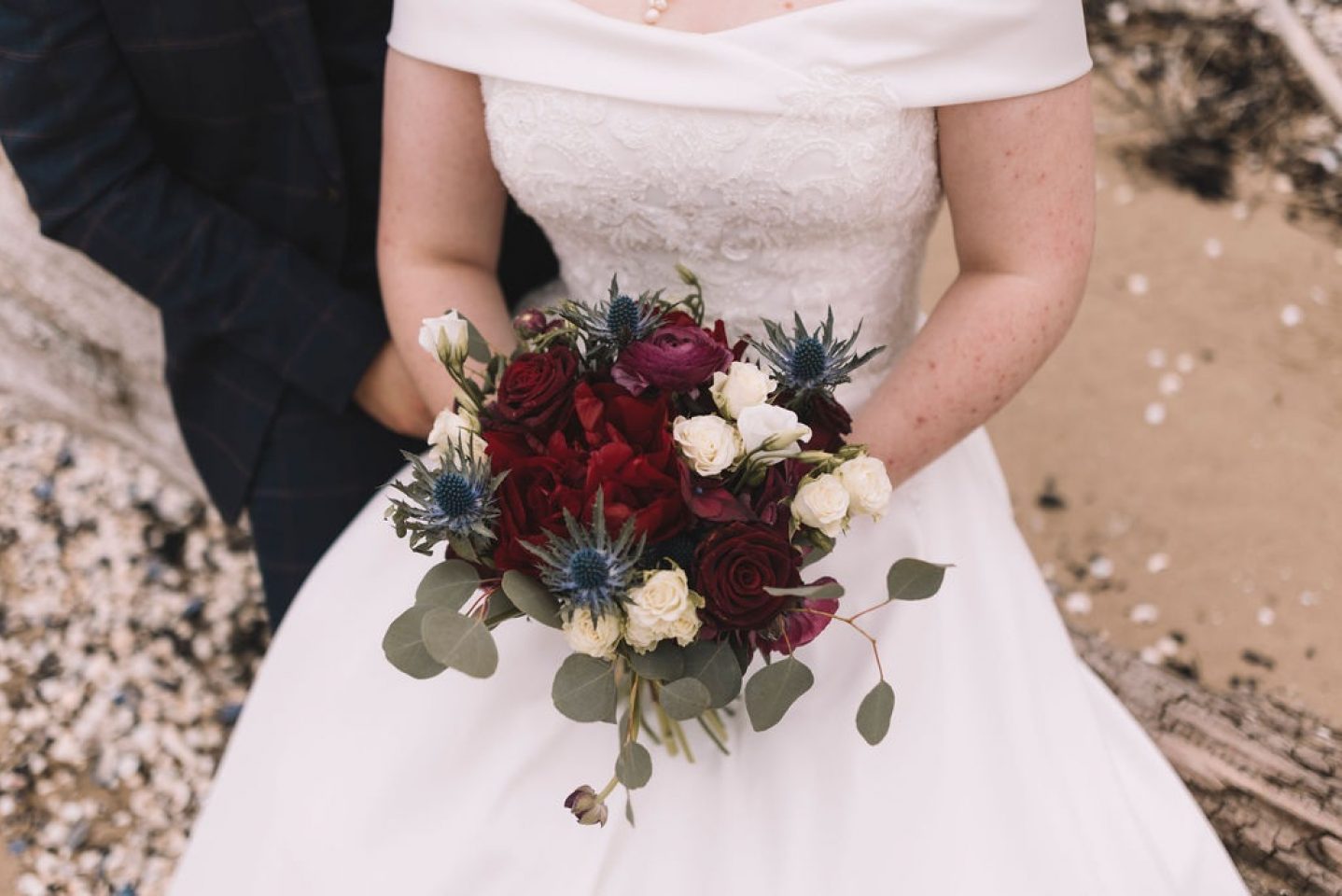 Merry & bright
Indoor or outdoor, a string of glistening twinkle lights can help set the tone for your nuptials. In our opinion, you can never have enough twinkle! Weave and wrap them around trees and bannisters, seating, and outdoor areas. Consider putting them inside lanterns as part of centrepieces, hanging them from trees or using them to line paths.
A fairy light wall makes a delightfully romantic backdrop and will look fabulous in the background of your wedding photos. Don't forget that fireworks will look especially striking across a dark winter sky for an end-of-the-night showstopper. Some of our guests have been really creative with lighting like this snowy example illuminating the exterior of Barnbougle Castle.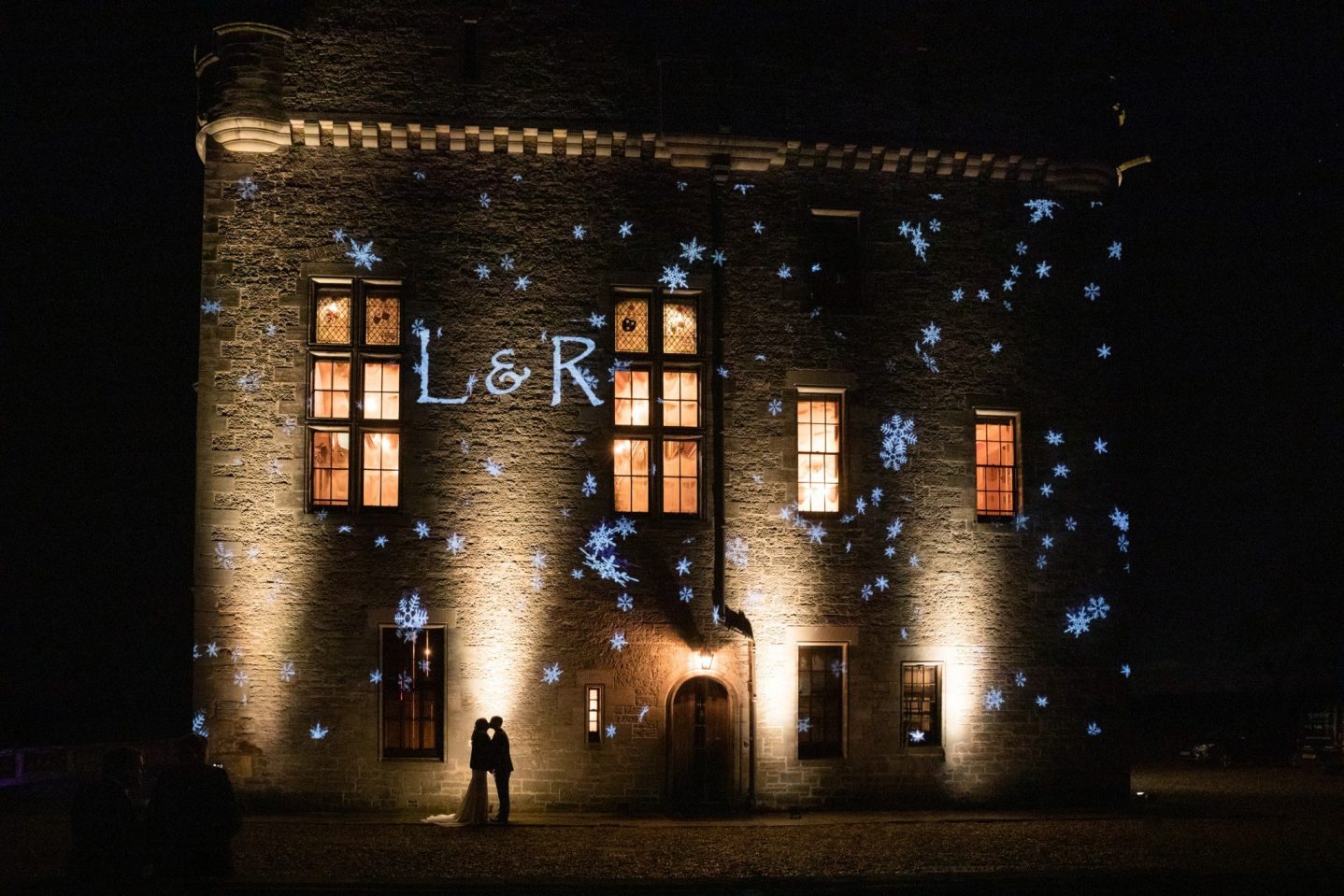 Winter wedding DIY ideas
Tie holly or winter berries with twine or ribbon around your napkins to give them a festive look that could easily have been professionally-styled
Add sprigs of evergreen like pine and rosemary to the bindings of your wedding programmes or menus for the perfect addition to your winter wedding's stationery
Add a touch of gold leaf to log candle holders for a look of rustic elegance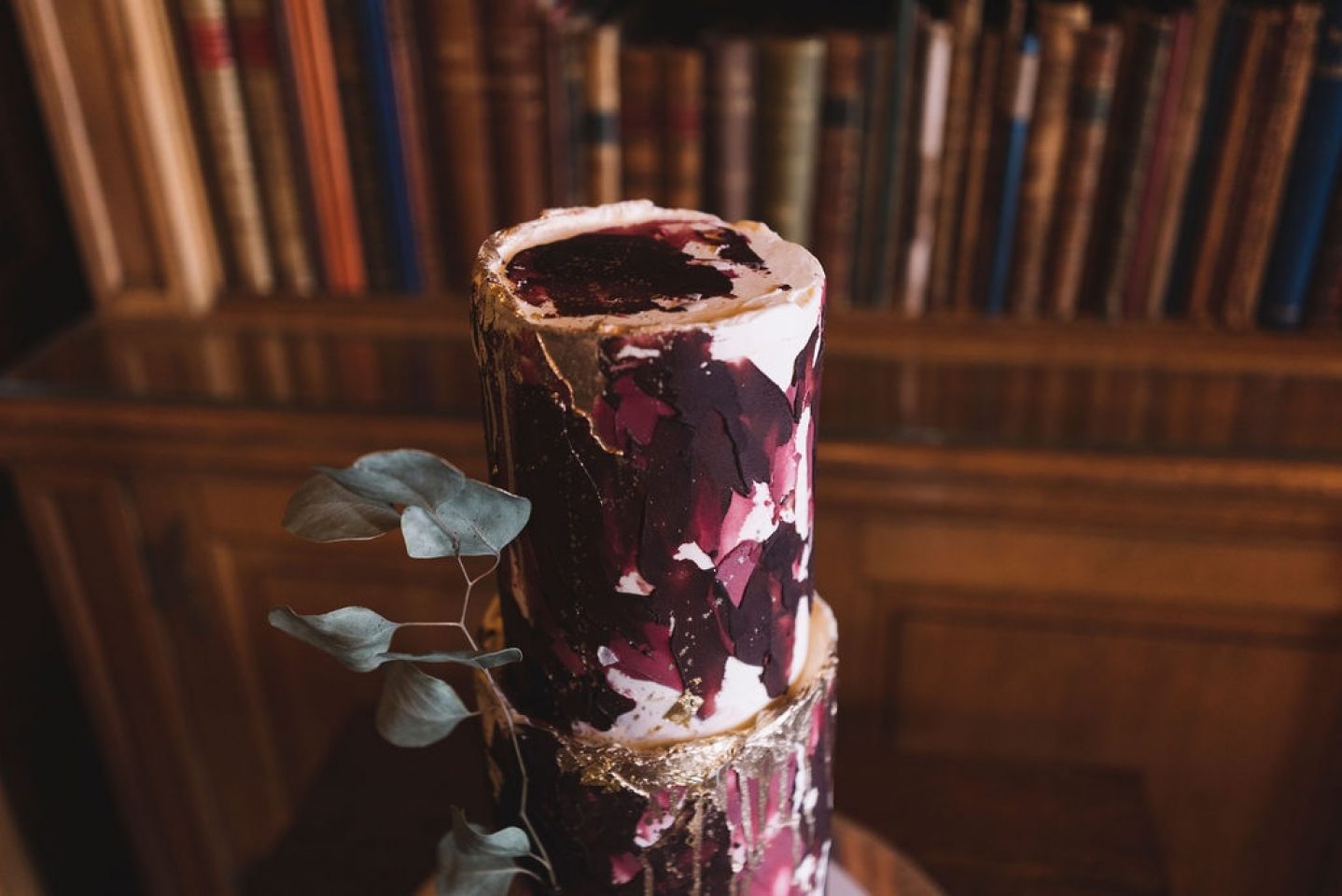 Winter food & drink ideas
Try something hearty like Beef Wellington. This showstopping dish combines comfort food cosiness with true elegance!
Brussels sprouts with bacon jam, brie stuffed crispy baby potatoes, or baked camembert with cranberry are ideal starters which embrace seasonal flavours
For vegetarians, try a nut roast and make use of delicious seasonal root vegetables
Desserts should be cosy and comforting, like sticky toffee pudding, apple crumble and custard, hot chocolate fondant, spiced winter cake, or strudel and ice cream.
For drinks, why not have a hot cocoa bar or mulled wine / cider station. This is also an opportunity to serve signature spiced winter cocktails to keep guests warm – like this one from our friends at Great British Vermouth.
Our team will be delighted to use our years of experience in planning first-class events to help you plan a winter wedding. Simply fill out our contact form and we will get in touch with you as quickly as possible.